AMERICAN INDIAN MOVEMENT
Support Group Standards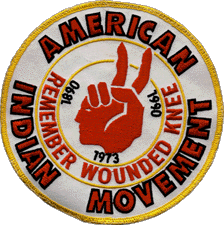 ---
---
AIM Support Group
Guidelines
---
Purpose
Support and Assist AIM Chapters.
Promote and encourage public and Congressional education on Native Issues with material issued or authorized by the AIM Chapter.
Work to educate non-Indians.
To Establish A Support Group
Contact the nearest AIM Chapter and ask to become affiliated with them. If you do not know the nearest AIM Chapter, contact the National AIM Office (Vernon Bellecourt) at 612-341-3358 or the Office of the National Field Director (Dennis Banks) at 606-431-2346

Support Groups are always connected to an AIM Chapter.
Support Groups are not spokespersons nor take positions of Native Issues.
Support Groups take information to the communities.
Support Groups do not get involved with internal AIM affairs.
Support Groups reinforce and support positions taken by AIM Chapters.
Support Groups are responsible for their groups and individula behavior in Public and at AIM events.
All Support Groups are to respect AIM's position that all Support Group gatherings are to be drug and alcohol-free events. Members are to be drug and alcohol-free at any AIM gathering or any Native American event. Refrain from wearing AIM colors if in questionable situations.
Support Group members are not to be verbally or physically abusive at any AIM gathering or event. No weapons are to be carried at any AIM event or gathering.
Support Groups are to submit a yearly report each December to their individual sponsoring AIM Chapter summarizing the activities of the group. You are encouraged to send a copy of the report to the Office of the National Field Director.
An upcoming plan of action for the new year should also be submitted to the AIM Chapter with the annual report.
Should the Support Group's political direction come in direct opposition to their parent AIM Chapter, a disclaimer is to be issued by both the Support Group and the affiliated AIM Chapter.
Suggested Activities
Petition drives for various Native issues.
Tabling with material and information geared to educating on Native issues and approved by the AIM Chapter.
Letter writing campaigns.
Phone banks.
Door-to-door canvassing.
Post card campaigns to educate, give information, and/or get committments to phone, write, fax or sign petitions/postcards supporting the positions put forth by a particular AIM Chapter on specific Native issues.
Fund raising for the AIM Chapter or for a particular project. (Support Groups do not maintain their own financial accounts, i.e. bank accounts, etc.).
Establish an AIM resource library(ies) with books and material available about the history of AIM, Native issues, Native American leaders, indigenous issues worldwide, etc.
---
---
---
East Coast Bring Peltier Home Tour Announced
Dennis Banks Congratulates Campbell
Dakota Territorial Chairman's Council Makes Statement Re South Dakota
Fourth Annual Sobriety Pow Wow
Land use restrictions in South Dakota
Anna Mae Aquash Archive
Relinquishing A Legacy of Hatred,
Embracing Respect for All Life
Conversations with
Dino Butler ©
AIM Home Page
Wounded Knee Home Page
First Nations Cumulative Site Index
---

This site is maintained by JS Dill and Ishgooda.