WHITECLAY -- The Ford sedan slows down and a Nebraska State Patrol officer with a shotgun slung on his back directs the vehicle to take a detour.

"I nearly got my passport out," says world traveler Dorothy King of Macclesfield, England, "because we're used to armed guards on borders." In other countries, perhaps. But this is the Nebraska-South Dakota line in the heart of the United States.

But it's also less than 24 hours after a "March for Justice" by members of the Oglala Sioux Tribe, a march that ended in a violent police confrontation in the embattled border town of Whiteclay.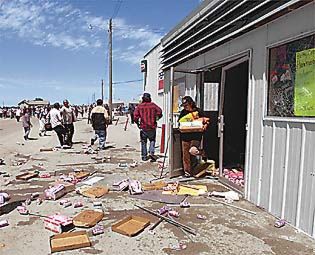 Business owners, law officers and tribal members grappled Sunday to make sense of a riot that left a local grocery store burned and looted and windows of other businesses smashed. The day ended with a pledge by the march organizer to bring Indian people back to Whiteclay next week.
"We will have documentation that Whiteclay is Indian land ... and we want it returned," said Tom Poor Bear, an Oglala from Rapid City who said he plans to invite Nebraska Gov. Mike Johanns to negotiate with the tribe at the event next Saturday.
The march was called in honor of Wilson "Wally" Black Elk Jr., 40, and Ronald Hard Heart, 39. The men were found dead in a roadside of the reservation, just north of Whiteclay. Family members suspect the men were slain in Nebraska and dumped on the reservation.
Marchers also wanted to send a message to Whiteclay business owners and Nebraska officials about the sale of beer in the unincorporated village. Four businesses sell about 4 million cans of beer each year, mostly to people living on the dry reservation.
After spending a rainy night patrolling Whiteclay, the patrol lifted its roadblock of the town at about 11:20 a.m. Sunday. Troopers remained in the town and the agency continued to investigate the riot and resulting vandalism, theft and arson, said Patrol Lt. Don Blausey of Scottsbluff. They will assist the Sheridan County Sheriff's Department with the investigation.
During the riot, officers just wanted to restore order, said Sheridan County Sheriff Terry Robbins. "If we would have tried to arrest someone, that would have caused more of a confrontation," he added.
Pine Ridge Police Chief Stanley Star Comes Out said his officers made two arrests on the reservation Saturday, but they were unrelated to the riot. His agency won't investigate the riot because it occurred outside his jurisdiction.
"Nebraska officials would file charges against rioters; we'll probably be witnesses," he said.
Businesses remained closed Sunday, but as soon as the roadblock was lifted, cars started driving through the riot scene. A car rolled up to Rainbow Pawn and Second Hand Store and the window rolled down.
"You open?" the woman inside the car asked Jack Allen, who stood in the parking lot of the businesses he bought last October.
"No," he said, "we're never open on Sundays." Allen said law enforcement had plenty of advance notice about the rally and should have been better prepared to prevent property damage. For a tense half-hour Saturday, rioters had control of the town, he said.
"It wasn't too peaceful of a day, and it wasn't too restful of a night," he said. He planned to reopen his business Monday, and he expected other Whiteclay businesses to do the same.
Vic Clarke, whose VJ's Market was looted and burned by rioters, said he didn't know whether he would reopen the store. He said he must consider the safety of his family.
"The people who are going to be the most hurt are the shoppers who spent millions of dollars in my store the past few years," he said, adding that he did not sell alcohol. "One hundred percent of my business was Native American." At the time of the march, Oglala Sioux Tribal President Harold Salway was meeting with White House officials to plan a July 7 reservation visit by President Clinton. He said he regretted that a "spiritual march" had ended in violence.
Salway addressed a common observation when he said he didn't recognize many marchers, a crowd organizers estimated at 1,500. He was told the rioting was caused by a relatively small number of intoxicated people who joined the march at Whiteclay.
"It wasn't the rally that caused (violence), it was the alcohol," Salway said.
When march organizers met with law enforcement Friday, they told police to remove any drunken people from Whiteclay before the procession arrived, said Benedict Black Elk, a brother of Wally Black Elk Jr.
"It was supposed to be peaceful," he said. "We didn't tell anybody anything to incite a riot. But there was nothing we could do to stop it once it started, because there's a lot of anger in Lakota people's hearts." The march included a large contingent of American Indian Movement members, including noted AIM leaders Russell Means, Clyde Bellecourt and Dennis Banks. They railed against Sheridan County law enforcement officers, whom they called racists, and they said the land on which Whiteclay sits belongs to the tribe through treaties.
After the rally, Banks said his comments were not intended to incite violence. Means could not be reached for comment Sunday, and Bellecourt was on his way back to his home in Minneapolis.
Several Oglala people called the violence in Whiteclay a step backward. It was unfortunate that a demonstration so spiritual and moving had to end so ugly.
"We destroyed a business that provided jobs in a place where jobs are scarce," said Albert "Joe" Herman, an Oglala who lives in Pine Ridge village.
Leon Matthews, pastor of the Lakota church The People Gathered To Pray, attended the rally. On Sunday, he said, many people he talked to seemed apathetic about the events in Whiteclay.
"There's a sense that it's not going to change anything," he said. "It's sad, because nobody's looking at our root problems." Others, however, felt the rioting was justified. They said Whiteclay business owners profit from Indians, yet they treat them poorly. Some believe racism at its most sinister is behind the killings of Black Elk and Hard Heart and several other "unattended" deaths in and around the village.
"To me, it's (the violence) all right," said Bernice White Hawk, a 65-year-old Manderson resident who participated in the Wounded Knee siege of 1973. "Besides, they kill a lot of our boys up there." March organizer Tom Poor Bear said he didn't intend for the event to end violently, but he didn't apologize for the outcome.
"When I woke up this morning ... I felt good," he said. "I felt proud to be a Lakota, and I felt proud to walk with my people." Poor Bear planned to invite Johanns, as well as representatives from the Nebraska Commission on Indian Affairs and the state Liquor Control Commission, to negotiate at a tepee encampment near Whiteclay. If the governor doesn't come, he said, protesters will stay in the camp and disrupt business in the village.
Poor Bear planned to organize another mass walk to Whiteclay, starting sometime next Saturday. Bellecourt and Means agreed to participate, Poor Bear said.
When asked whether the event could lead to more violence, Poor Bear said, "We'll tell everybody to keep their cool."