La Frambois Island: the next generation
Young activists continue the struggle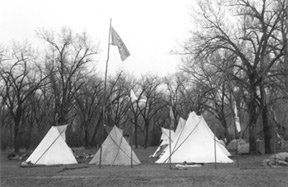 Oceti Skkowin (Seven Fires Councils) spiritual camp.
---
---
story and photo by Jon Lurie
---
Rick Greybuffalo stands in the shadow of his tipi on La Frambois Island, a two-mile wooded strip in the Missouri River just outside Pierre, S. D. Before the construction of the Pick-Sloan Dam System, sandbars like La Frambois were common, supporting an amazing variety of vegetation and wildlife. From here, elder Greybuffalo can see the dome's silhouette of the state capitol, seat of four-term governor William "Wild Bill" Janklow's administration. Greybuffalo, an American Indian Movement veteran of the 1973 Wounded Knee occupation, has battled Janklow over the survival of the Great Sioux Nation for nearly three decades. While there are no guns at La Frambois, Greybuffalo and members of the Lakota Student Alliance, who occupied the island March 22nd, say they are locked in a life-or-death "last stand" for their people vowing to remain until the borders of the Great Sioux Nation, as promised in the Fort Laramie Treaties of 1851 and 1868, are recognized by the United States. "This is my land," says Greybuffalo, gesturing toward the South Dakota Capitol. "If I'm going to die here, so be it."

The Flood Control Act of 1944 authorized seizure of treaty lands to build the Missouri River Pick-Sloan Dam system. The Army Corps of Engineers estimates the project's annual contribution to the nation's economy averages $1.27 billion. For the tribes along the river, however, human and economic costs have far outweighed any benefits. Over 22,000 acres of Lower Brule's bottom lands, approximately 10 percent of the reservation, have been flooded, forcing resettlement of nearly 70 percent of the resident tribal population. On the Cheyenne River Reservation, flood waters took 104,000 acres, 80 percent of the tribe's fertile land, forcing resettlement of nearly 30 percent of the reservation population.

The La Frambois occupation came about in response to a recent act of Congress, the Wildlife Mitigation Act, tacked on as a rider to a 14,000-page appropriations bill, bypassing the Indian Affairs Committee. Co-authored by Gov. Janklow who, despite his current Indian-friendly image, told reporters in 1974, "The only way to deal with the Indian problem in America, is to put a gun to the AIM leaders' heads and pull the trigger." and Senator Tom Daschle (D-SD), the law transfers approximately 90% of the Missouri River banks within South Dakota, including 200,000 acres of prime Great Sioux Nation land, to the state of South Dakota. The act ostensibly seeks to restore lands ravaged by the massive flooding associated with the Pick-Sloan Dam system to their original condition.

Despite a federal memorandum issued by President Clinton in 1994 requiring government leaders to "consult...with tribal governments prior to taking actions that affect federally recognized tribal governments," and despite stipulations in the Fort Laramie Treaties of 1851 and 1868, the Black Hills Treaty Council, made up of descendants of the Fort Laramie Treaties signatories, was never contacted.

"We learned about the transfer by reading it in the paper," says Robert Quiver, a former staffer in the Oglala (Pine Ridge) Sioux Tribe's vice-president's office and an organizer for the Lakota Student Alliance (LSA). What many Native Americans in the community also learned was that some of their own leaders had signed on to the Mitigation Act. In exchange for President Gregg Bourland's signature of support for the Mitigation Act, the Lower Brule Sioux Tribe will share a $57 million "wildlife trust fund" with its up-river neighbor, Cheyenne River, whose government also signed onto the Act. Under the agreement, both reservations will take control of their Missouri banks. District 6 of the Cheyenne River Reservation voted to impeach Greg Bourland for treason against the Great Sioux Nation. Many Cheyenne River band members have since joined La Frambois camp.

On March 22nd, just as the sun set and snow began to fall, eight Lakota Student Alliance (LSA) members hastily assembled the La Frambois Island camp, a tipi and a small fire. That first night, the LSA slept without blankets. Two months later, it is a small village comprised of five tipis, a sweat lodge, a kitchen fashioned from a picnic shelter, two outhouses and several tents. Many Lakota activists have given up homes, relationships, jobs and school to be here. And 20-30 supporters from throughout Indian country and the world now call this island home for various periods of time.

For many LSA members, this is hardly their first contact with direct action. Robert Quiver was 4 years old when the American Indian Movement (AIM) came to Pine Ridge Reservation. For 71 days in 1973, AIM members and traditional Lakota people engaged in a shooting war against the largest internal deployment of federal forces since the Civil War. Government assurances to address Indians' demands prompted an end to the stand-off, but the government never fulfilled their promise.

At the time, AIM activists were not aware of a federal plot to turn the Black Hills into what one governmental study called a "National Sacrifice Zone." In 1971, the Interior Department endorsed a plan to make the Black Hills the nucleus of a massive energy center, producing power in the abundant uranium and coal fields, and exporting it eastward on a network of lines running to St. Louis and Minneapolis. The plan called for the devastation of 188,000 acres and acknowledged inflicting irreparable damage as a toxic smog of nitrogen, sulfur, and ash would cover the skies of the mountain states. Indians would lose their "special relationship to the land," said the impact statement, as the land was "shifted to mineral extractive use."

Companies began test drilling. Leaking uranium holes soon poisoned the Black Hills aquifer, the region's only source of drinking water, killing cattle in the Southern Black Hills.

The $500 million in estimated potential uranium revenue helps to explain the federal zeal to eliminate AIM. Wounded Knee was at the forefront of protests which ultimately convinced the Interior Department to retreat.

A proposed environmental impact statement released by the Bureau of Land Reclamation in 1976 outlines a proposal to convert the upper Missouri into an industrial waterway, with power plants, strip mines, and fertilizer plants dominating the banks from Montana to South Dakota. Despite the state's insistence that the land will not be exploited, there is no language in the Wildlife Mitigation Act strictly prohibiting industrial use of the Missouri.

While there are older AIM members at the camp, it is the 20-30 year-olds from LSA who are in charge. The AIM struggles of the past, involving many of their parents, inspire them, but they look to the future with a vision of their own.

La Frambois is a spiritual camp. Organizers don't allow weapons or drugs. Anyone is welcome to come, stay, contribute and learn, as long as they "come in a good way." "We're going to have to go nonviolent here. I don't think showing violence to anybody would really solve anything," says Wambli Yellowbird, 23. Yellowbird's father, Bob Yellowbird, stood up against racism in rural white Nebraska communities, and Wambli admires him greatly. However, Wambli says his father "liked to shoot people. He had a quick temper and wouldn't take no abuse." After watching his father suffer for most of his life, Wambli decided there must be a better way. "

LSA wants to use words to further a solution. They want to publicly debate the Janklow administration. However, their requests, and the media's, have been denied.

LSA members are committed to nonviolence. "(When) the young white people come by and holler racist, obscene gestures," says Rick Greybuffalo. "We just let them say it. These are drunk little white boys who don't know any better."

So far, the most LSA members have done to defend themselves is call the police. On May 2nd, several young white males in a white Dodge van shot at the camp as they drove by. No one was injured. Three people in the camp identified the van to Pierre police. No arrests have been made.

Being shot at has not wavered LSA's dedication to nonviolence...however, at least one camp member may revisit his dedication to complete nonviolence should industrial development begin along the river. Says Yellowbird, "If it came down to action I know what I'd have to do, and I'd be ready to lay down my life for my people."

Many LSA members and others at La Frambois Island believe they are locked in a life-or-death "last stand" for their people. Explains Quiver, "The consequences of failure would be that we would lose the bulk of our treaty rights, the rights that were described in the 1851 and 1868 Fort Laramie treaties. Those rights will be weakened and will be reflected on by Supreme Court decisions in the future that will be against the treaties. The second consequence will be that we'll lose our land, our culture and our way of life."

[Permission to reprint has been granted by TheCircle.]
---
Lakota Student Alliance
First Nations
This site is maintained by JS Dill and your opinion would be appreciated...