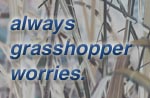 thinking now that no matter what one me here talking nothing will change a thing...nothing can strip the stain/colouring/marking dragged along behind the shadow borne...no joy no nothing...ever.
hissing now fills my head and can not be shaken tipped from me can not run from this can not...the noise is always there replacing the crystal not so good not so good for sure.
being alone does not denigrate...make one less...make one dependent...make one unable to turn on a light...make one one of "their citizens." Make one freakoh...
being alone does do some things...though.
with no anchor one can only float...through good...through bad...through darkness and the shiverings...through that that scars and that that does not...this is all one can do. huh?
being alone can do some things...cause clouds to crowd the light side...cause joy to bend and not be trusted...cause...cause...darkness.
being alone can do some things...yes
being alone can for sure be trusted...
show me better.
huh?
---