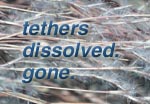 tenderly step i trying not to be reminded of bridges crossed burned crumbling far behind me...trying hard to tread this deep deep water trying hard to stay chin up up up...
blue child dances reminding me of futures waiting for some ones some things some chances yet to be...but not for me oh not for me...
poor ernest shotgunned rothko slicings what did they think as dark drew near on streams of blood and triggers pulled...and me and me i wonder what of me...what doors does beckon. me.
the only reason that gates not opened is cause glimmers faint now yes but glimmers still not fear the staying no not fear the glimmer yes...the hope that...that...no...no...there is no hope...only...yet...my bags not packed.
---