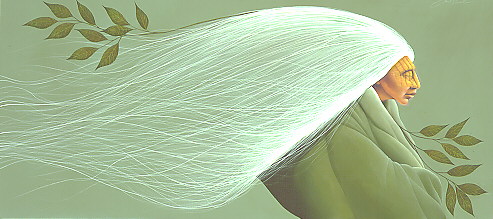 (Painting by Frank Howell)

...on the Passing of Elders
You sit still among us, Brother, your person retains its usual resemblance, and continues similar to ours, without any visible deficiency, except that it has lost the power of action. But whither is that breath flown, which a few hours ago sent up smoke to the Great Spirit? Why are those lips silent, that lately delivered to us expressive and pleasing language? Why are those feet motionless, that a short time ago were fleeter than the deer on yonder mountains? Why useless hang those arms that could climb the tallest tree, or draw the toughest bow? Alas! Every part of that frame which we lately beheld with admiration and wonder, is now become as inanimate as it was three hundred years ago. We will not, however, bemoan thee as if thou was for ever lost to us, or that thy name would be buried in oblivion; thy soul yet lives in the great Country of Spirits, with those of thy nation that are gone before thee; and though we are left behind to perpetuate thy flame, we shall one day join thee. Actuated by the respect we bore thee while living, we now come to tender to thee the last act of kindness it is in our power to bestow: that thy body might not lie neglected on the plain, and become a prey to the beasts of the field, or the fowls of the air, we will take care to lay it with those of thy predecessors who are gone before thee; hoping at the same time, that thy spirit will feed with their spirits, and be ready to receive ours when we also shall arrive at the great Country of Souls.
...funeral oration
---
Anderson - Atotaro - Thomas Banyacya - Caldwell - Peter Campbell - Frank Caplin - Chino - Cleghorn - Red Thunder Cloud - Truman W. Dailey - Frank Gray Gist - Jack Jackson - Frank B. (Wamsutta) James - Ann Jock - Richard LaCourse - Stanley Looking Horse - Nanepashemet - Joyce -Doc Tate- Nevaquaya - Alfonso Ortiz - Norman Powless - Art Solomon - William Tallbull - Chief Jake Thomas - White Wolf (Lee Maddox) - Wolfsong (Rickie Provencher)
---
Richard LaCourse
Monday, March 12, 2001 - Richard LaCourse, Native American journalist, dies at 62

A Yakama and Umatilla journalist who founded several tribal newspapers and inspired American Indians to become journalists has died of a massive stroke at age 62.

Richard LaCourse died Friday in Seattle after a 33-year career in the news media.

LaCourse founded at least three tribal newspapers, including ones on the Yakama and Umatilla reservations. He helped found the American Indian Press Association in Washington, D.C., and in 1972 became the first American Indian journalist to report on Congress from a tribal perspective.

LaCourse began his career as a copy editor at the Seattle Post-Intelligencer in 1968 and worked there until 1971.

"He really captured a sense of the Indian intellectual developing a philosophy that wasn't necessarily based on European values," said Mark Trahant, president of the Maynard Institute for Journalism Education in Oakland, Calif. "He captured that Indian intellectual not only in journalism, but also in writings about history and about the community."

LaCourse was born Sept. 23, 1938, in Nespelem, Wash.

He is survived by one daughter, three sisters and two brothers.

A funeral Mass is scheduled for Wednesday at St. Andrews Catholic Church on the Umatilla Indian Reservation near Pendleton, Ore.
---
Frank B. (Wamsutta) James
Frank B. (Wamsutta) James, an Aquinnah Wampanoag elder and Native American activist, born in 1923, died February 20, 2001 at the age of 77.

James first came to national attention in 1970 when he, with hundreds of other Native Americans and their supporters, went to Plymouth and declared Thanksgiving day a National Day of Mourning for Native Americans. The National Day of Mourning protest in Plymouth continues to this day, now led by his son.

James was proud of his Native American heritage long before it was fashionable to do so, and spent many hours researching the history of the Wampanoag Nation and of the English invasion of the New England region. A brilliant trumpet player, James was the first Native American graduate of the New England Conservatory of Music in 1948. While many of his classmates secured positions with top symphony orchestras, James was flatly told that, due to segregation and racism, no orchestra in the country would hire him because of his dark skin. While at the Conservatory, he became the first non-white member of the Phi Mu Alpha Sinfonia fraternity.

In 1957, James became a music teacher on Cape Cod, where he was a very popular and influential instructor. He went on to become the Director of Music of the Nauset Regional Schools, retiring in 1989.

James devoted much of his life to fighting against racism and to fighting for the rights of all Indian people. James often traveled long distances to be at Native American protests, including the Trail of Broken Treaties in Washington, DC in 1972, when Native American activists took over the Burea of Indian Affairs building, and the historic Longest Walk from California to Washington, DC in 1978. Although he was less active in recent years due to declining health, he always maintained an interest in all Native American issues.

He was the moderator of United American Indians of New England from 1970 until the mid-1990s. [UAINE is the organization which organizes the National Day of Mourning protests in Plymouth.] A former President of the Federated Eastern Indian League, he was also the Executive Director of Operation Mainstream on Cape Cod in the 1970s. [FEIL was an organization of all Native American people from the East Coast.] [Operation Mainstream was a federally-funded job retraining program serving the Cape and Islands; it was later absorbed by CETA.] In the 1970s, he was appointed by Gov. Sargent to the newly-created Mass. Commission on Indian Affairs. James later resigned from the Commission due to what he felt was the state's refusal to take Native American needs and issues seriously.

James was considered by many who knew him to be a true Renaissance man. In addition to his many other talents, he was also a gifted painter, scrimshaw artist, silversmith, draftsman, builder, raconteur, model shipmaker, fisherman, and sailor.

He is survived by his sisters, June MacDonald of Chatham, Vivian of Brewster, and Shirley Freethy of Chathamport; his children Roland of Weymouth, Sharon Ryone of Brewster, and Donna Sacher of Westminster, Colorado; and his grandchildren Allen, Derek, Benjamin, Andrew, Leslie, Ki'Sha, and Womsikuk.

Burial will be at the Seaside Cemetery on Crowell Road in Chatham, Mass. on Saturday, February 24 at 12 noon.

In lieu of flowers, the family requests donations to the Metacom Education Project, Inc., P.O. Box 697512, Quincy, MA 02269, which has established a Wamsutta Frank James Memorial Scholarship Fund.
---
Wolfsong (Rickie Provencher)
Wolfsong, (He Who Sings The Wolf Song) Abenaki Storyteller, Native American Cultural Presenter and Speaker, formerly of Burlington, and recently of Hardwick, Vt., passed over on Nov. 24, 2000. Wolfsong was born (Rickie Provencher) on April 25, 1953, in Middlebury, Vt. He was raised and educated in Addison, Vt.

Wolfsong embraced his Abenaki heritage and since 1985 has been drawing audiences into a circle of sharing, laughter and wisdom by sharing the Ancient Voices of Native American traditional stories and legends throughout the United States and Canada. Wolfsong studied with Abenaki, Cherokee and Tuscarora Elders and Teachers. His lectures and stories reflected his innate respect for women, humanity's connection to the earth and the cyclical nature of life.

He has appeared and shared his gifts in such places as the Flynn Theater, First Night and the Earth Peace International Film Festival and The Fleming Museum in Burlington, Indianapolis Children's Museum, Boston Museum of Art, Stratton Mountain Arts Festival, Journeys into American Indian Territory, Long Island, N.Y., Three Appes Festival in Harvard, Mass., Tsai Theater in Boston, Mass., St. Louis Storytelling Festival in St. Louis, Mo., The Appalachian Storytelling Festival in Pennsylvania, First Things First at the Peabody Museum in Salem, Mass., as well as in hundreds of schools, libraries, festivals, museums, Powwows in locations as far away as Nicaragua. He has been heard on Vermont Public Radio, New Hampshire Public Radio and WSNO. Due to his extensive knowledge of Native American history, Wolfsong was a featured lecturer on Native American culture, history and legends frequently at UVM and St. Michael's College and at many colleges and universities in the United States and Canada.

Wolfsong's intent was to pass on the legacy and wisdom of his ancestors. As Wolfsong would say, "Our bones are made of the earth, the earth is made of our bones." He asked his audiences to remember that as they walk on this land, they are walking on the bones of our ancestors. Wolfsong's mastery of acquainting his audiences with the breadth, depth and inherent value of indigenous cultures will be long remembered. He believed it important for people to understand the legacy that Native Americans have and are giving to American Society. He believed that it was necessary to embrace the past to consciously choose and direct our future.

Wolfsong shared his heart and time generously with all around him. His gift of laughter, love of life and his embrace and respect of the earth will never be forgotten. Wolfsong touched many people's lives and hearts, especially his family and friends. He was thankful for those who were a part of his walk, his family now says, "Wliwni" (thank you).

A Native American service will be held on Thursday, Nov. 30, 2000, at the base of Snake Mountain. Those wanting to attend will meet at the Phillips residence at 271 Whitford Rd., Addison, Vt., at noon.

In lieu of flowers those who wish to make contributions may send them to: Farm and Wilderness Camps, HCR 70, Box 27, Plymouth, Vt., 05056.
---
Peter Campbell
There are dozens of Native Americans throughout the Northwest who credit their college degrees to Peter Campbell. There are thousands of music and literature lovers who discovered contemporary Native American artists thanks to Campbell.

And he was about to have a similar impact on the art world.

Campbell died just after midnight Friday of a heart attack. He was 60.

He had just been named head of the newly created Center for Plateau Cultural Studies at the Northwest Museum of Arts and Culture (formerly Cheney Cowles Museum). His goal was to elevate local Native American heritage to national recognition. And no one doubts he would have done it. Now, dozens of his students and colleagues are dedicated to carrying on his legacy.

"Peter's efforts have already set the roots for the center," said Jane A. Johnson, chief executive officer of the museum. "We are committed to ensuring that his vision continues."

Campbell, a member of the Colville Confederated Tribes, was raised on his mother's farm on the Coeur d'Alene Indian Reservation. Like many of his generation, he was educated at boarding schools, including DeSmet during his younger years and Gonzaga Prep for high school.

"They were painful times, and yes, it was traumatic," he told a reporter in 1997.

Although he carried a great sorrow over the injustice Native Americans have suffered, he refused to be overwhelmed by bitterness, his friends and relatives said. Campbell often told this story of the single formative moment during his childhood:

He was 5 years old when his uncle returned to the reservation after having served in the Army during World War II. He still was wearing his uniform when he accompanied several of his nieces and nephews to a movie theater in Tekoa, Wash.

Although the Indians were supposed to sit in the back, the uncle escorted his family to the front of the theater and sat down. He refused to move when the manager asked. From then on, the family sat where it wanted to in the theater. "It just wasn't right," said Charlene Abrahamson, Campbell's niece. "It wasn't a matter of yelling. It wasn't a matter of fighting. It was just a matter of doing what was right."

Campbell graduated from Gonzaga Prep in 1958. He studied architecture at Catholic University in Washington, D.C., for three years. He worked on his mother's farm for several years on the Coeur d'Alene reservation. Campbell moved to Spokane in 1970 and worked for the state Employment Security Department. He returned to school in the mid-1980s and graduated from Eastern Washington University in 1987 with a degree in social work. Two years later, Campbell joined the staff of EWU. He was a counselor, instructor and mentor.

"If it wasn't for Peter, I would have dropped out of school," said Jody Beemer, now a multicultural specialist for the university. She started her studies in 1992, a new widow, far from home. "There's a lot of people who come from the reservation who have a hard time adapting to college life," she said. "They have extended families who support them on the reservation. They get to college and they are on their own." Campbell became the extended family for dozens of students. He organized dinners and social gatherings. He taught them the ins and outs of university life. And he encouraged them whenever they felt defeated. "I know of at least 10 people who wouldn't have gotten their degrees if Peter wasn't here," Beemer said.

Campbell was perhaps best-known in the community as host of "Coyote & Friends," a free annual concert at The Met featuring author and humorist Sherman Alexie and musician Jim Boyd.

"Peter Campbell was a gentleman, kind and funny, thoughtful and crazy," Alexie said Monday. "Indian people often speak of respecting elders, though most elders of whatever color are not necessarily worthy of respect. But Peter Campbell was one elder who certainly deserved respect." Campbell recently left EWU for the job at the museum. It was his lifelong dream to take the extensive collection of Native American artifacts owned by the museum and display them in a dignified manner that pleased the tribes. He also was hoping to negotiate with the city of Spokane to turn the former Salty's restaurant, which overlooks the Spokane River falls, into an interpretive center. And he was hoping to educate the rest of the nation about the distinctive culture of the Plateau tribes, which often has been ignored.

"He was such a warrior," Abrahamson said. "In Indian culture, a warrior is a peacekeeper. It involves strategy, strength, intelligence, teaching. "He was the ultimate warrior that way," she said. "In knowing what battles to fight and which to leave for another day."

Campbell is survived by two sisters, Joan Campbell Abrahamson of Plummer, Idaho, and Rose Paddock of Olympia; a brother, Noel Campbell of Inchelium, Wash.; and several nieces and nephews.

Tuesday, October 24, 2000. Kelly McBride - Staff writer, The Spokesman-Review.Com
---
Frank Gray Gist
Frank Gray Gist, 73, passed away in Eureka on September 28, 2000. Mr. Gist was born in Klamath River on December 5, 1926. Prior to his retirement, he was a self employed truck driver and also was a heavy equipment operator. He was a member and Elder of the Yurok Tribe and taught Native American culture and heritage. Frank loved to fish and hunt on the Klamath River. He had a special love for all of his grandchildren.

Survivors include his wife Georgia Gist of Klamath; children Mary Jackson of Anchorage, Alaska, Frank Gist, Jr. of Sacramento, Karen Multon of Brookings, Ore., LeRoy Gist of Dobbins, Myrna Hill of Oroville, step children Alice Oscar of Crescent City, Jr. Sanderson of Medford, Ore, Marilyn Moore of Klamath, Peggy Sanderson of Crescent City, Mark Sanderson of Klamath; sister Agnes Damon of White City, Ore.; numerous grandchildren; great-grandchildren; and numerous other relatives.

He was preceded in death by his two sons Daniel and John.

The family requests contributions be made in Frank's memory to the American Heart Association, 1710 Gilbreth Road, Burlingame, CA 94010.

Visitation will be held at Wier's Mortuary on Monday, October 2, 2000 for 9 A.M. until 5 P.M. and Tuesday, October 3, 2000 from 9 A.M. until 11 A.M.

Funeral services will be held at Wier's on Tuesday, October 3, 2000, at 11 A.M. Interment will follow at the family plot up the Klamath River.
---
Thomas Banyacya, Hopi
Thomas Banyacya, who spent half a century on a tireless and often thankless Hopi spiritual mission to save the planet from the ravages of modern materialism and greed, died on Feb. 6 at a hospital in Keam's Canyon, Ariz., about 40 miles from his home in Kykotsmovi on the Hopi reservation. He was 89 and the last of four messengers named by Hopi elders in 1948 to warn the world of impending doom.

The 15,000 or so Hopis are a small nation, but their sense of burden is great. According to a 900-year-old religious tradition, the Great Spirit Maasau'u, Guardian of the Earth, assigned them the duty of preserving the natural balance of the world and entrusted them with a series of ominous prophecies warning of specific threats and providing guidance on how to avoid them.

The prophecies remained a secret oral tradition until 1948, when Hopi religious leaders, alarmed by reports of the atomic bomb's mushroom cloud, which they saw as the destructive "gourd of ashes" foretold in the prophecies, appointed Banyacya and three others as messengers to reveal and interpret the prophecies to the outside world.

Banyacya seems to have been an obvious choice. At a time when many Hopis were beginning to embrace modern ways, even accepting the governmental jurisdiction of the United States, he had remained so steadfast in his devotion to the sacred traditions and cherished sovereignty of the Hopi that he had spent seven years in prison rather than register for the draft in World War II.

As he tirelessly explained, the Hopi, whose very name means "peaceful," reject fighting in wars, especially for another nation.

His moral stand apparently had an impact. In 1953, according to Hopi commentators, after writing a letter to President Dwight D. Eisenhower, Banyacya helped win an understanding with local Selective Service officials that any Hopi who requested classification as a conscientious objector would receive it.

Banyacya's special feelings for his culture emerged early. A native of the Hopi village of Moencopi, he attended the Sherman Indian School in Riverside, Calif., where he was so distressed at being required to use the name Jenkins, which his father had accepted, that he later insisted on using his Hopi name.

At the all-Indian Bacone College in Oklahoma, where he was a star long- distance runner, he chafed at the lack of attention to indigenous cultures and helped establish an Indian lodge where students sang and performed traditional ceremonies.

Although his later efforts to persuade the world to respect nature and protect the environment under the threat of a devastating "purification," produced indifferent results, along the way he forged spiritual alliances with indigenous people around the world and was credited with reviving interest among American Indians in their native cultures.

Banyacya, whose work was supported by donations, traveled widely in the United States and abroad, something that was made a bit tricky by his refusal to apply for an American passport. It was a reflection of his spiritual appeal that he managed to attend several foreign conferences using a Hopi passport encased in buckskin.

Although his appointment as interpreter of the prophecies gave him a broad mandate, from the beginning his main focus was on securing a hearing at the United Nations in accordance with an ancient prophecy to take the Hopi message of peace, as he put it, "to the Great House of Mica on the Eastern shore where the nations come together to solve world problems without war."

Although he was often warmly received by U.N. officials, his efforts to give a speech were repeatedly rebuffed. But then, as he explained, the elders had told him to knock on the door four times.

On his fourth attempt, in 1992, he was allowed to make a brief speech at the General Assembly hall, but on a day when the General Assembly was in recess. Only a few delegates were present when he carefully sprinkled cornmeal on the podium and then delivered his message stressing the need for world leaders to listen to those still living in harmony with nature.

A fierce opponent of uranium mining and a variety of other industrial assaults on the environment, Banyacya warned that an endless quest for material wealth would destroy the balance of the world; yet he did not reject all modern conveniences. His U.N. address and several other messages can be found on the Internet at www.alphacdc.com/banyacya/banyacya.html, a site maintained by the Alpha Institute.

Banyacya, whose family asked that his survivors not be identified, leaves several children, grandchildren and great-grandchildren.
---
Norman Powless, Onondaga Nation, Leader of the Deer Clan
Onondaga Nation Chief Norman Powless, a quiet man who attended every Council of Chiefs meeting despite a long struggle with emphysema, died Friday.

Powless, 67, collapsed at his home on the Onondaga Nation south of Syracuse.

Oren Lyons, an Onondaga faithkeeper and a close friend, said Powless was instrumental in getting the nation's primary water main replaced, a project that ended last year. The old main was about 100 years old.

"He was a very quiet, unassuming man, but very work-conscious," Lyons said. "He was one of those persons who didn't say a lot, but did a lot."

Powless was chief of the Deer Clan, one of 14 chiefs of the Onondaga Nation. His cousin, Irving Powless, is also a chief.

Norman Powless had worked in construction, and he helped his wife, Adeline, run a jewelry shop on the Onondaga Nation. They have six daughters and one son.

His daughter Leona Powless said her father took his leadership role seriously. She said he often discussed major decisions with her as he pondered them.

"You look at things differently," she said. "It's not just yourself, or just your family. You have an extended family - your clan, the whole nation."

Powless was the sort of person who would go out of his way to help others, she said.

"He would never say no," Leona Powless said. "If he couldn't help you, he would find a way to get you help."

To Leona Powless, her father was an irreplaceable member of the Onondaga community.

To Leona Powless, her father was an irreplaceable member of the Onondaga community.

"There's something he knew that's gone," she said. "As a people, we count on each other. You take one part away, and it's hard to keep going. But you have to keep going."

Paul Waterman, a nation resident who knew him, said Powless was a tradition-minded man who was dedicated to preserving the Onondagas' way of life. Though Powless had struggled with emphysema in recent years, Waterman said, he still attended every Council of Chiefs meeting.

"We'll have a hard time replacing him," Waterman said. "He was good to his family and to the nation. The whole nation was his family."

Nation resident Tom Huff knew Powless from cultural festivals. Powless' family is active in the arts; Powless specialized in drums and rattles, Huff said.

"He was willing to teach," he said. "He was a good friend."
---
Wendell Chino, Mescalero Apache Leader
Wendell Chino, the leader of the Mescalero Apache tribe for the past 43 years and an outspoken and sometimes brash defender of Indian rights, died of a heart attack Wednesday (November 4, 1998) in Santa Monica, Calif.

Chino, 74, had been visiting a health center and was working out on a treadmill when he suffered a heart attack Wednesday afternoon. He was revived in the emergency room of the Santa Monica-UCLA Medical Center and transferred to a critical care unit at the hospital where he died at 3:28 p.m. MST, according to hospital spokesman Ted Braun.

Chino's death set off shock and rumors across the Mescalero reservation in southern New Mexico and beyond. Chino was a nationally recognized Indian leader who fought for tribal sovereignty and ruled Mescalero with an iron fist while successfully building and diversifying the tribe's economy.

Chino served as the tribal business council chairman from 1955 to 1965, when the Mescaleros adopted a president and council form of government. Chino easily won election as the tribe's first president and then handily won 16 more terms.

Over the years he befriended and berated hundreds of politicians in New Mexico and Washington, D.C., and launched lawsuits and standoffs in the name of Indian sovereignty.

Members of the tribal council and the tribe's attorneys were to meet this morning to discuss Chino's death and the future of tribal government, Chino's friend Dale Webb said Wednesday night.

Webb said he heard the news from Chino's son Wednesday night. "We're all just waiting," Webb said.

Tribal members said Mescalero conservation officers ringed tribal headquarters in the mountains of Otero County on Wednesday night, awaiting the arrival of the tribe's vice president, Paul Ortega.

Some tribal members said they believe Ortega will take over the presidency for 90 days under tribal laws and then a special election will be held. George Fettinger, the tribe's attorney, would not comment Wednesday night.

Chino and Albuquerque businessman Ray Gallegos had been checked in to the Pritikin Longevity Center in Santa Monica for several days, a friend said. Chino underwent an angioplasty for a heart problem last year but continued to be active.

Chino, a little man with stooped shoulders, two hearing aids and a booming voice, appeared gruff in public but hid a sly sense of humor. Under his leadership, the 4,000-member tribe transformed itself into a prosperous business empire with a sawmill, a metal fabrication plant, a casino, a ski resort and a resort hotel.

Chino once described the Mescalero tribe's strength this way: Navajos, he said, make rugs, and the Pueblos make pottery. "The Mescaleros," Chino said, "make money."

His critics questioned where the profits from those enterprises went, noting that most tribal members had not seen prosperity.

In an interview with the Journal just before winning re-election to his 17th term in November 1997, Chino downplayed his image as a dictator and defended his record.

"Wendell Chino doesn't elect himself," he said. "If they didn't like the way I was operating, they would have booted me a long time ago."

Wendell Chino will be buried Monday (November 9, 1998) on the Mescalero Apache reservation, where he reigned as president of the tribe for more than three decades.

Funeral services for Chino are scheduled to begin at 10 a.m. Monday at the Mescalero Community Center. He will be buried at the Mescalero Cemetery. The community center is a large building behind the tribe's executive offices on Mescalero Avenue. It accomodates hundreds of people and the public is invited to the funeral.

Chino's family has asked that memorials to the late Indian leader be made in the form of donations to the Wendell Chino Scholarship Fund in care of Ruidoso State Bank, P.O. Drawer B, Ruidoso, N.M. 88355.
---
Chief Jake Thomas, Cayuga Royaner of the Iroquois Confederacy
...died Sunday night (8.17.98) at the age of 78. He was an elder of the Haudenausaunee (People of the Longhouse). He recited the Great Law of Peace and was an authority as he recited it all over Turtle Island. He also was one of the last speakers of the all six languages of the Iroquois confederacy. Jake had just finished more than a week of instructing native youth in the Great Law and the life of the Peacemaker at the annual Gathering of Elders and Youth at the Ganondagan State Historic Site in Victor, NY.

He was one of the last elders who knew the speeches, ceremonies, teachings and protocols of the Longhouse ceremonies. He had a grade 8 education but taught university and was a professor of Native Studies at Trent University in Peterborough, Ontario until his retirement. He was the founder of the Iroquoian Institute and the present Jake Thomas Learning Center on the Six Nations Reserve, near Brantford. Funeral services will be Thursday (8.20.98). For more information call (5l9) 445-0779.
---
White Wolf (Lee Maddox), Chippewa Elder
White Wolf (Lee Maddox), a member of the Sault Sainte Marie Chippewa, passed away at the age of 65. He was born on the Chippewa reserve, and was a graduate of La Salle High School in Michigan and the Rhode Island School of Design. During the Korean War, he was a Master Chief Petty Officer and served with the Navy "Seabees" (Construction Battalion) for thirty years.

He was also a civil engineer for the Commonwealth of Massachusetts, a position from which he retired in 1996 due to his heart condition. In addition, he served for two terms on the Commonwealth of Massachusetts Commission of Indian Affairs. He founded the Dighton Intertribal Council in l989, was its Acting Chief until l997 and has continued as Elder Chief. During his term, the Council was given the Town Hall Building on Rte 138.

White Wolf gave many lectures to civic organizations regarding Native American culture and frequently visited classrooms of children throughout the New England area. He is survived by his wife Libby, three daughters, Lisa, Lee and Debra and a son Anthony. He was to be a grandfather in September.

His funeral will be held on Monday July 13th, 1998 at eleven in the morning at: Birchcrest, 189 Gordon Neck Road, Swansea, Massachusetts, followed by burial at Dighton Cemetery.

In lieu of flowers, contributions may be made to St Joseph's Indian School in Chamberlain, South Dakota, 57325.
---
Stanley Looking Horse, Sr., Lakota Elder
Stanley Looking Horse, Sr. entered the Spirit World on Monday, June 8, 1998 at the IHS Hospital in Eagle Butte. Traditional funeral services were held Saturday, June 13 at the Looking Horse residence in Green Grass. Officiating were Spiritual Leaders of the Lakota - Dakota - Nakota Nation. He was buried in the Looking Horse Cemetery at Green Grass.

Stanley Raymond Looking Horse, Sr. was born Jan. 24, 1930 at Green Grass to Thomas and Lucy (Bad Warrior) Looking Horse. He lived all his life at Green Grass and was a Traditional Leader. He married Mary Cecelia Shoots the Bear on Aug. 4, 1952 at Dupree, SD and had a Traditional marriage blessing at HinHa Wakpa.

Stanley is survived by his wife, Mary Cecelia Looking Horse of Green Grass; eight children: Arvol Looking Horse of Green Grass, Lois Martina Looking Horse of Minneapolis, MN, Ivan Looking Horse of Green Grass, Beatrice Looking Horse of Green Grass, Stanley Looking Horse Jr. of Bismarck, ND, Gladys Looking Horse of Green Grass, Derilee Looking Horse of Green Grass, and adopted daughter Delores Blue Stone of Shakopee, MN, and an adopted son, Gary Stranger of Eagle Butte; 24 grandchildren; two brothers, Pete Looking Horse, Cannon Ball, ND and Sylvester Thin Elk, Rosebud, and an aunt, Josephine Hollow of Bullhead. He was preceded in death by his parents, one brother, Wilford Looking Horse and one sister, Martina Looking Horse. Casketbearers were Ikce Wicasa and the honorary pallbearers were Lakota Oyate and all riders of the Lakota Nation.

Eagle Butte News. Eagle Butte, SD. June 18, 1998.

---




This past week, I visited with an Elder and relative of Mr. Looking Horse who stated the funeral was very well attended despite the rainy and cooler-than-normal weather. People from across the United States and several from European countries came to show their respects. The number of vehicles and wet conditions made it difficult to get to the ceremony at Green Grass.
With respect, Steven Baggs
---
Ann Jock
Ann Jock, Mohawk, Akwesasne grandmother and teacher has begun her journey home. There will be a visitation at the family home tomorrow night at Akwesasne. She passed over on Monday night, May 25 and the funeral will be on Thursday, May 28, 1998.
---
E.K. Caldwell
(1954-1997)
[Note:
The following text was taken from the Mid September issue of News From Indian Country...I am pleased to say that I, for a brief time, corresponded with E.K. after she agreed to let the First Nations site carry her interview with Dino Butler. Her passing is a sad affair for this world...]
---
Estelle Kimberly (E.K.) Conner Caldwell (Tsalagi, Shawnee, Celtic, German) was born February 3, 1954 in Connellsville, PA and passed on unexpectedly on August I 1, 1997. Kim and her husband, James resided in Otis, Oregon. Kim was a writer, singer/songwriter, and counselor. She graduated from Connellsville High School in 1972 where she performed in many musicals and attended college in Clarion, PA, where she continued to perform both in the college theater and in local musical groups. Kim met her husband James in Clarion in 1973 and they were married in July 1984.

Kim will be remembered for her outstanding voice and knack with Iyrical composition Her love of music came from her family's love of Bluegrass music. When she was young, her relatives and family friends would often gather to play at her grandparents home.

For many years, Kim worked as a counselor at the Abraxas Foundation near Marienville, PA. And in 1979 she accepted a Therapy Supervisor position at the newly established Correctional Treatment Program in Salem. At this time, she also crossed over from acoustic to electric music which was an easy task for Kim's powerful voice. She continued writing music and performing with Salem rhythm and blues groups, including Sig and The Sahibs, The Cool Whips, and Reflex Blue. Kim's solo acoustic guitar performances in Salem area venues will be remembered by many. James joined Kim in Salem in 1981.

Kim left the counseling profession when she and James moved to Depoe Bay in 1990 to devote her time to writing poetry, short stories and journalism. "Bear," a children's book, was published by Scholastic and her narrative ballet " When the Animals Danced" was performed by Pacific Dance Ensemble both locally and in small villages in Japan, as part of an international dance exchange program.

Her poetry and stories have been published in a variety of anthologies and journals both nationally and internationally including: "For She is the Tree of Life; Grandmothers Through the Eyes of Women Writers," "Blue Dawn, Red Earth," "Gatherings Vll," and "Reinventing the Enemy's Language." Kim's journalistic writings have been published in nationally distributed News From Indian Country, New York Times syndicated multi-cultural wire service, The Bloomsbury Review, The Raven Chronicles, Indigenous Woman Magazine, American Indian Review, and locally Inkfish Magazine.

She recently submitted for publication "This Ain't No Dog and Pony Show," a collection of her interviews with notable Native American artists, writers, and teachers, and was also editing her first poetry collection manuscript as well as a CD of her original songs.

In addition to her writing and musical endeavors, Kim was active in a variety organizations including Wordcraft Circle of Native Writers and Storytellers, Oregon Native Youth Council, an organization which helps local Native American youth with life alternatives, the Native American AIDS Prevention Center, and Native American Journalism Association (NAJA). She received the Best Feature Story award from NAJA in 1996.

In 1992 she became an apprentice writer in Wordcraft Circle of Native Writers and Storytellers and a year later was selected to be a mentor. In her role as a Wordcraft Circle Mentor, Kim worked closely with young Native writers in helping them to further develop their writing skills and assisting in having their work published. She was appointed to the Wordcraft Circle National Advisory Caucus in 1994 and in 1995 was elected to the organization's National Caucus board of directors and served as its Vice Chair until her passing.

Kim is survived by her husband James Caldwell, Otis, OR; her mother and father, Shirly and Dave Conner; brother Chris, all of Connellsville, PA; sister Kelly (Bob) Story, Strasburg, VA; brother Matthew, Richmond, VA; mother and father-in-law Millie and Carl Caldwell, Clarion, PA; brothers-in-law Robert and David Caldwell, Salem, OR; nieces, Lizbeth and Cresta White, Luhui Whitebear, Sacheen Tatooed; nephews, Che and Buddha Butler, Wallace Lawson, Molo Whitebear, Richard Cardona; and numerous aunties, uncles and cousins, all of whom will miss this exceptional person very much.
---
Art Solomon
(1914-1997)
Art Solomon, Ojibway Elder, died at sunrise, Sunday, June 29th, in hospital in Sudbury Ontario. He and his wife Eva had been living with his daughters for the past three years. Eva died early this year.

It was in 1962 that the "fog was just lifting enough that he could see the Good Red Road" that he would follow for the rest of his life. In that journey he has never wavered, he has never compromised, never rested, never looked back. He knew what was the right thing and he did it. Art's decision was worse than unpopular. He was misunderstood, resented, criticized, scrutinized, harassed and rejected. "Of course, you were right" he would be told, followed by a stream of excuses and rationalizations about "being practical," "being unreasonable," "you can't go back" to the past. It would have been easier, of course, if Art has been born Kesheyanakwan instead of having to become one. His life has been an unfinished work in progress and Art has been its principle craftsman sculpturing the Creator's original material with the guidance of the Spirit Winds. All the original ingredients are still visible but his life shape today could not have been seen, if imagined, until he was well into middle age years. He evolved into someone else right before the disbelieving eyes of his family and friends who were not yet prepared to join Art on the path he was taking. The events of 1970 brought Native people into the nation's living rooms. Native crafts went into fancy galleries. Instant medicine men appeared on talk shows. Buckskin and beads became the high fashion.

Art Solomon was well placed to gain prestige, praise and prominence but he never change his pace or direction. He continued to utter unspeakable truths in bold terms. He did not want urban comforts preferring to be in the bush with the Creator's riches or in the prisons with the Creator's forgotten people. He went to the World Council of Churches who backed him to get the government o recognize Native Spirituality in the prisons. Art traveled with the White Roots of Peace and Four Arrows. He was a powerful teacher, an avid student. His wife Eva was always the fuel and he was the life.

Just by being himself Art created more than his share of enemies. Persons prepared to take only half measures felt criticized by his mere presence. Government people found him unsusceptible to the rewards offered to the native leaders willing to become "co-operative." Many native people considered Art a threat to their own "hard won progress" with the government, which he called the "beast." "Native people have to make gains on their own, not by having the government do it for them," said Art. He took the pain of it all in stride and just took the blows which unavoidably came. He insisted on pushing ahead where he knew he must go without regard to the personal sacrifices which he knew would be required.

To many Art had seemed to be a demanding teacher, unforgiving and uncompromising. Yet he never asked anyone to follow him. He held out truths rather than expectations. While he did not allow dodging the facts he insisted we all have choices. He had no imperatives, "What I have to say will hurt many ears, but I have to say it," he would say. That was his duty. You could do your own duty as you saw fit.

Kesheyanakwan had heard the Creator's instructions and he understood his responsibility to follow them the best he possibly could. He applied is free will to take and determine his direction and he turned to the Creation to sustain his energy. He had found it so simple to do that he must have pondered why anyone else does not do the same.

CASNP is especially grateful for insisting that it remain a grassroots organization run by native and non-natives, and to refuse government assistance. The CASNP family has lost a really good friend in guidance and friendship who always said, "Each person had powers and had the responsibility to use that power to do good."

Traditional ceremonies in Sudbury on Monday and Tuesday (June 30-July1); traditional ceremonies in Killarney on Wednesday and Thursday (July 2-3); and a mass in Killarny on Friday morning(July 4). Contact CASNP for details.
---
Mildred Cleghorn
Mildred Cleghorn, retired tribal leader, and a living treasure to her people, died April 15, 1997 in a traffic accident in Apache, Oklahoma. She was born at Fort Sill, Oklahoma on Dec. 11th, 1910. She was 86 years old, and served as Tribal chairwoman of the Fort Sill Apache Tribe until her retirement in 1995.

She was one of the few surviving Prisoners of War of the Fort Sill Apaches, as they became known, who weren't freed until 1913-1914. The Fort Sill Apaches were members of Geronimo's band, who "surrendered" Sept. 5, 1886. The U.S. government promptly corralled 394 of his people, loaded them into railroad boxcars and shipped them off to Florida as prisoners of war. Mildred's grandparents were shipped east from the San Carlos Reservation in New Mexico, even though they stayed on the Reservation as ordered by U.S. authorities.

"There was nothing we could do," said Cleghorn, who retired in the fall of 1995, after 18 years as tribal chairwoman. "We just accepted it and went on, but they could never make up for what happened to us."

Before they were released, the Fort Sill Apaches were required to accept 160-acre allotments with a house, a well and a year's rations. Only two families received 158 acres, while most received 80 or less.

In a 1996 interview, Cleghorn remembered her first moments of freedom when her family left Fort Sill in a horse-drawn wagon. She was 3 years old when her family settled on a 40-acre plot near Apache, Oklahoma.

"The families weren't allowed to live together," Cleghorn said. "So they scattered us all over. If we wanted to go visit someone, it would be an all-day trip. I guess they were afraid of another uprising."

In 1996, only 372 Fort Sill Apaches remained on the tribal roll from a tribal population that once numbered 1,000. That year, fewer than 115 members were still in Oklahoma.

Also, in 1996, Mildred became one of the lead plaintiffs in the class action suit against the mismanagement of Indian money held in trust by the U.S. Government. The suit charged that the federal government had mismanaged Indian money and destroyed important documents. Filers of the suit hoped to get a reliable accounting of hundreds of millions of dollars in Indian trust funds, which has still not been forthcoming.

The suit was filed in federal court in the District of Columbia by tribal members who say the Interior Department has lost track of money that it was supposed to be investing and guarding for American Indians. Mildred Cleghorn, filed on behalf of more than 300,000 Indians who have trust fund accounts with the Bureau of Indian Affairs.

Last year, on the anniversary of the Oklahoma City Bombing, Mildred helped to read the 168 names of the bombing victims in the company of Governor Bill Anoatubby of the Chickasaw Nation and others tribal leaders.

information provided by John Berry, Oklahoma - Quotes by AP and The Daily Oklahoman
---
Professor Alfonso Ortiz
It is with great regret that I announce the untimely death of our esteemed colleague, Professor Alfonso Ortiz. He passed away sometime Tuesday evening, (Jan 27-28th) at his Santa Fe residence after suffering from poor health over the past 6 months.

Dr. Ortiz was a renowned Native American anthropologist from the Pueblo of San Juan, New Mexico. During his lifetime he served in numerious community and advocacy roles as well as being one of the most prolific native scholars of this era. He was currently Professor of Anthropology at the University of New Mexico. He was born in 1939.

Arrangements for memorial services are currently being planned. I will post these as they are finalized.
Ted Jojola - Tue, 28 Jan 1997
÷
Al Ortiz has done a lot of good things for all of us and we will miss him in this place, but for all he has done there will be a world of good thoughts and prayers to help him get over there. This morning I see a cardinal out in the sweetgum tree, which is shining with ice-drops above a powdering of snow, and I think of its feathers as prayersticks for Dr. Alfonso Ortiz, in beauty behind him as he goes.
Carter C. Revard - Wed, 29 Jan 1997
÷
In accordance with his wishes, Prof. Alfonso Ortiz's body will be cremated and distributed on one of the Sacred Mountains near his native Pueblo of San Juan. There will be no funeral.

The University of New Mexico will hold a special Memorial Service on Friday, February 7th at 4pm. Tentatively, the service will be held at the UNM Alumni Memorial Chapel pending a reconsideration on its seating capacity. If you plan to attend, you may wish to confirm before your arrival by contacting the Department of Anthropology at (505) 277-1536.

In addition, the Department of Anthropology has set up a special fund in honor of Prof. Alfonso Ortiz, to be used to help Native American students studying Anthropology. Donations may be sent directly to:

The UNM Foundation/Alfonso Ortiz Memorial Fund
University of New Mexico
Albuquerque, NM 87131

The outpouring of condolences has been tremendous. These may now be conveyed directly to the family. Individuals wishing to send sympathy cards to the family may send these in care of:

The Department of Anthropology
University of New Mexico
Albuquerque, NM 87131

The following obituary appeared in the Wednesday edition of the Albuquerque Tribune (Jan 29th):

Patricia Guthrie and Ollie Reed Jr. (Tribune Reporters)

ALFONSO ORTIZ OFFERED INSIDE LOOK AT AMERICAN INDIANS

Alfonso Ortiz, one of the few American Indians to provide anthropology with a view from the "inside out," is remembered for his numerous contributions at the University of New Mexico, first as a student, then as an esteemed professor.

"He was the most senior of our native professors on campus. He always had an enormous presence here," said Ted Jojola, past director of UNM's Native American Studies and now a UNM Associate Professor. "He served as one of my mentors and he served as an advocate in higher education for many American Indian students."

Ortiz, 57, died Monday night at his Santa Fe home. He had recently taken medical leave from teaching cultural and social anthropology at UNM, but had hoped to return this semester, said Elena Ortiz, one of his three children.

Ortiz was born April 30, 1939, at San Juan Pueblo in Northern New Mexico. He received a bachelor's degree in sociology from UNM in 1961 and his masters's and doctorate in anthropology from the University of Chicago. Ortiz taught at Princeton and Rutgers universities before returning to his alma mater to teach in 1974.

"I think the university is very much impoverished by this loss," said Marta Weigle, chairwoman of UNM's anthropology department. "It's hard to imagine how we'll replace him."

Ortiz won many awards, research grants and scholarships, including a postdoctoral fellowship from the John Simon Guggenheim Memorial Foundation and a MacArthur Foundation "genius grant."

Author of numerous publications, he's best known for his book, "The Tewa World: Space, Time, Being and Becoming a Pueblo Society," published in 1969. He also edited two volumes of the Smithsonian Institution's "Handbook of American Indians."

As an American Indian anthropologist, Ortiz was both commended and criticized for revealing the traditions and people of New Mexico's pueblos.

But in recent years, he seemed to be coming to terms with his role in the academic world and his place at "Ohkay-Owingeh" -- The Place of the Strong People, said San Juan Pueblo Gov. Joe Garcia.

"There has been some friction because of some of the things he printed," said Garcia, leader of the 2,500-member pueblo northwest of Espanola. "But, in the Indian way, there was forgiveness. I think he realized he had done something not to the liking of elders."

"This is a great loss to the Indian community," Garcia added. "There was a lot of knowledge and wisdom in that man."

In an interview 14 years ago upon winning the $216,000 MacArthur grant, Ortiz said he chose the "fun" field of anthropology because "it was a way of being concerned with Indian matters all the time."

Many remembered Ortiz as willing to lend his name, time and testimony to causes ranging from uranium miners rights to religious freedom. He's also credited with founding UNM's Kiva Club, the first American Indian organization on campus.

"He had quite a reputation," said Karl Schwerin, a colleague in the anthropology department. "He was constantly being invited to give lectures and to serve on various boards and in various organizations."

Among his many public service activities, Ortiz was president of the Association on American Indian Affairs, Inc., from 1973 to 1988; a member of the board of trustees of the National Museum of the American Indian from 1989 to 1990; and a member of the National Advisory Council on the National Indian Youth Council from 1972 to 1990.

"He believed passionately in the worth of the native past and the importance of an Indian future, " said Rick West, director of the National Museum of the American Indian at the Smithsonian Institution in Washington, DC.

West, who had known Ortiz for 30 years, said his friend "involved himself throughout his lifetime in activities that went far beyond the profession for which he was trained."

Ortiz is survived by two daughters, Julliana Ortiz of San Diego, Elena Ortiz of Santa Fe; a son, Nico Ortiz of Chicago; two sisters, Sylvia Medina of San Juan Pueblo, Louisa Montoya, of Inglewood, Calif.; and numerous nieces and nephews.
Ted Jojola - Thursday, 30 Jan 1997
÷
Letter from Moscow Mark N. Trahant Feb. 1, 1997
Three decades ago, a young scholar told students at a university lecture series about the need for American Indian heroes. "This country has honored too long the war chiefs. There is also a tradition of peace chiefs who deserve to be memorialized and honored," said the lecturer, an anthropologist by the name of Alfonso Ortiz.

Ortiz died this week. I am writing this column because somehow Ortiz' death escaped notice by the national news media. It should not have. Ortiz was a peace chief. He contributed volumes to the understanding of native culture.

Ortiz was born April 30, 1939, at San Juan Pueblo in northern New Mexico. He said one of his early teachers was his grandmother, "who taught me that if I couldn't explain what I was doing in the Tewa language, it probably wasn't worth doing."

He received his undergraduate degree at University of New Mexico. Then on to the University of Chicago for his master's and doctorate in anthropology. He taught at Princeton and Rutgers before returning to his native New Mexico in 1974. He wrote and edited numerous books, including his signature work, The Tewa World: Space, Time, Being and Becoming in a Pueblo Society.

As an anthropologist, Ortiz looked at ancient people in the context of today. He asked in a 1994 essay, for example, if there was any such "people" as the Pueblos. "After all, the term Pubelos today encompasses some forty thousand people speaking six mutually unintelligible languages and occupying thirty-odd villages stretched along a rough crescent of more than four hundred miles," Ortiz wrote in the book. "This question has to be at the heart of any discussion about cultural survival."

Ortiz looked at the anthropology of the living; he viewed Pueblo society through a two-thousand year prisim. "Pueblos have never been displaced from their homelands, something almost unique among Northa American Indian groups ... after more than four centuries of European exploration and colonization, most of the Pueblo people still live in places of their own choosing. The importance of this for cultural survival cannot be overemphasized, for, indeed, we might say that the Pueblos only believe in what they see and experience, and in their homeland they can see what they believe."

As a peacemaker, Ortiz cited works pointing to the common experience of people beyond the Pueblo. "When we seek to boil down underlying, connecting truths about what it means to be human, we see they are saying the same thing," he once said.

He demonstrated that a living Pueblo culture, indeed, any living culture, always borrows from its neighbors. Pueblo traders traveled in prehistoric times, exchanging not only material objects, but social institutions and religious knowledge. "This paattern of extensive trading and exchange was not so much altered by the Spanish and Americans as it was augmented," he wrote. Even when in conflict with other cultures, the Pueblos understood a common sense of destiny.

Ortiz predicted the people he loved would survive. One Tewa metaphor refers to the Pueblo people the way decaying vines mix with healthy ones - a revitalization that is the strength of the people and hope for the future. "Indeed, shifting to the Pueblo perspective," Ortiz wrote. "I do not think that it should be an object of suprise at all that these mature and sophisticated civilizations have survived two thousand years of in situ cultural development; the real wonder lies in the fact that a young and savage American nation has managed to survive over two hundred years." But then, Ortiz would note, that is not unique to Pueblos or even American Indians. "What we are dealing with ... is a universal and noble human aspiration - namely, the will to survive."

Geoff Gamble, a linguist and Washington State University's Interim Provost and Academic Vice President, said this about Ortiz, a professional colleague. "There are rare individuals who capture the essence. We recognize that in them and yet it's only after they're gone that we realize the loss."

Mark N. Trahant is editor and publisher of The Daily News of Moscow, Idaho, and Pullman, Washington.
---
Frank Caplin

Mi'kmaq - Aug. 17, 1940 to Jan. 28, 1997
It is with great sadness that I must inform you of the tragic passing over of Frank Caplin, Mi'kmaq from Restigouche, Quebec, Canada... Frank was a traditional person who traveled throughout Canada attending ceremonies, gatherings and pursuing his dream of competing in the wheelchair olympics. Frank was struck and killed by a motor vehicle while training in Arizona for an upcoming wheelchair race in Las Vegas.

Frank was an Ironworker for over thirty years and was paralyzed after falling 32 feet in 1986. His confinement to a wheel chair only served to strenghten his resolve as a warrior of his people and in spite of his afflictions, Frank fasted, attended sweat lodges and walked with a Sacred Pipe...Frank's brother Don just told me that in a ceremony last night (1/29) Frank spoke to one of the Elders on the Reserve saying: "not to be sad, everything is ok" for him. Don also said that Frank lived by the warrior's code and many times said that, "Today is a good day to die."

Frank's family wishes to thank his many friends in Toronto, who also race wheelchairs, for all the friendship and encouragement they gave Frank..They also would like to thank AIM Arizona for their help and thoughtfulness during this time of mourning.

A Sacred Fire will be lit in Restigouche upon the arrival of Frank's remains and will burn for four days and nights...the family invites all of Frank's friends to come to the fire...

Mi'kmaq warrior Frank Caplin will be missed by his people.
January 30, 1997, John Eagle Smith, Mi'kmaq
---
Truman W. Dailey
IN MEMORIAM: TRUMAN W. DAILEY (1898-1996)
Truman Washington Dailey, the last fluent speaker of the Otoe-Missouria (Baxoje-Jiwere-Nyut'chi) language, passed away on the 16th of December, 1996, at the age of 98, after several years of failing health. His Eagle Clan name was Mashi Manyi ("Soaring High"); he was also known by his man's name, Sunge Hka ("White Horse").

He was born on October 19, 1898 near Red Rock in Oklahoma Territory, a mere 18 years after the tribe left its traditional homelands in Nebraska, and migrated to Oklahoma Territory in an effort to escape the westward non-Indian settlement. His father was George Dailey (XraS'age "Old Eagle"), Missouria & Otoe; his mother was Katie Samuels, Ioway & Otoe. He was also raised and influenced by his Ioway maternal grandmother, Rachel McCrary (Ewo'jigreMi "Makes Tree Fall Woman" [Beaver Clan]). He had several siblings, but only a sister, Lizzie Harper, lived past childhood. She recently passed away at the age of 103.

He married Lavina Koshiway on March 17, 1928, and together he served as a Road Man (ceremonial leader) in the Native American Church. They were unable to have children.

His father belonged to a group (the "Coyote Band") that resisted giving up traditional ways of life, and young Truman was well versed in the oral literature and history of his peoples. He genuinely lived this tradition by regularly supporting the ceremonial life of the tribe, as well as applying his traditional teachings in all his dealings with the larger world. He was the last elder to be able to explain the reasons and meanings behind the rituals during tribal gatherings and ceremonials of the tribe.

Truman began teaching the Otoe-Missouria language to tribal classes during the 1970's cultural renaissance. A gifted storyteller, his vivid memory, use of comparisons, and cultivated command of both his native language and of English allowed him to pass along much of the knowledge and history that he acquired from his own elders. In 1988 he again volunteered to serve as a language consultant for Louanna Furbee of University of Missouri and her dedicated students to record his language for posterity. It is thought by some tribal members that certain differences between his speech and the usual Otoe were remnants of the Missouria dialect of his father.

In addition to their respect for tradition, his family recognized the need for academic education and the ability to participate fully in the non-Indian world, and Truman attended Oklahoma A&M in Stillwater. He was awarded an honorary Doctor's degree in 1993 by the University of Missouri.

Truman was himself the subject of a doctoral dissertation (Lori Stanley, _The Indian Path of Life: A Life History of Truman Washington Dailey of the Otoe-Missouria Tribe_, Univ. of Missouri-Columbia, 1993). This work, and the continuing use of his language, will be the ultimate tribute to his efforts.
Jimm G. GoodTracks
---
Atotaro of the Six Nations Iroquois Confederacy
Chief Leon Shenandoah, Sr. Passes Away
The Atotarho, the firekeeper of the Six Nations Iroquois Confederacy, is considered the chiefs of chiefs. The Confederacy consists of the Mohawks, Onondagas, Cayugas, Ondeidas, Senecas and Tuscaroras. Leon Shenandoah, 81 years of age, was chosen in 1969 and held the position for 28 years. He passed away on Monday July 22 [1996] at 7:20 a.m.

The Great Law of Peace, the constitution of the Confederacy states: 'The Chiefs of the Six Nations Iroquois Confederacy shall be mentors of the people for all time. The Thickness of their skin shall be seven spans thick, their hearts shall be full of peace and goodwill, and their minds filled with yearning for the people of the Confederacy. With endless patience they shall carry out their duty and all their words and actions shall be marked by calm deliberation.' This is the true spirit of North America - equality, democracy, honour and respect for the power of the people. It is the duty of the chiefs of the Confederacy at this time to continue to be vigilant in protecting all Indigenous people in North America.

The Atotarho will be interred at the Longhouse in Onondaga Nation Territory near Syracuse New York, and will be buried on Wednesday, July 24, 1996 at 10 a.m. He is survived by his wife, children, and many grandchildren and great grandchildren.
---
Rosita Anderson, Pomo Elder
Rosita Anderson passed on Friday, March 31, 1996. She was a California Pomo Weaver and one of the Pomo elders who had one foot in the ancient times, carrying her songs, language and weaving traditions into the present. her baskets are in collections as far away as Russia and the Smithsonian Museum in Washington. D.C. She lived and died in Chico, California. The weaving traditions she was able to pass on endure.
Dorette English
---
Red Thunder Cloud, Catawba Elder
Red Thunder Cloud, a member of the Catawba Nation who was steeped in the history of the American Indians, died Monday [January, 1996] in Worcester, Mass. He was the last human link to the ancient language of his people.

Thunder Cloud, who was 76, died in St. Vincent's Hospital after a stroke, friends said Thunder Cloud was also know as Carlos Westez and lived in Northbridge, Mass. He was a storyteller and earned money from selling his own line of teas from herbs that he collected in the woods around his home.

"It's always sad when the last living speaker of a language dies," Carl Teeter, emeritus professor of linguistics at Harvard University, said on Friday. "There were once 500 languages in North America. About a hundred are still spoken, and half of them are spoken by older people." Dr. Teeter said the Catawba language, like others, had died off because of prejudice. Not so long ago, he said, Americans who spoke Indian languages "weren't treated too well."

Dr. Teeter described Catawba, an oral language with no written form, as related to the Sioux family of languages. He said the similarity indicated that there may have been considerable movement among Indian tribes hundreds of years ago.

In the 1940's, Thunder Cloud made a complete recording of all he knew of the Catawba language for the Massachusetts Institute of Technology. About that time, he also recorded some ancient Catawba songs for the Smithsonian Institution. Derek Jordan of Putney, Vt., a friend of Thunder Cloud's, recorded two albums of Catawba songs and legends by Thunder Cloud in 1990.

Mr. Jordan said Thunder Cloud had learned Catawba as a boy from his grandfather, Strong Eagle, and from tribal elders. Eventually, there were only two Catawba speakers left: Thunder Cloud and a woman, who died about 40 years ago.

Foxx Ayers of Columbia, S.C., a Catawba and friend of Thunder Cloud, recalled on Friday that he resisted his grandmother's efforts to teach him the language because he feared he would be ridiculed. "I wish now that I'd learned," said. Ayers, 71.

Mr. Ayers recalled one happy experiment with the language. One day years ago, he was visiting Thunder Cloud, who used to sell pottery made by Mr. Ayer's wife, Sarah, who is also a Catawba. Mr. Ayers's arms were full of pottery when he found his way blocked by Thunder Cloud's dog. The dog responded only to commands in Catawba. So Ayers tried one phrase he had heard Thunder Cloud use (roughly "Swie hay, tanty," or "Move, dog"), and the dog obeyed.

Alice Kasakoff, a professor of anthropology at the University of South Carolina, said the conversion of many Catawbas after visits by Mormon missionaries to their enclave in South Carolina may have hastened the decline of the Indian language.

Estimates of the number of living Catabaws range from several hundred to more than 1,000. The nation's headquarters is in Rock Hill, S.C.

In its scarcity of close relationships, Thunder Cloud's life seemed to foreshadow the passing of the language only he spoke. Mr. Ayers said he recalled that Thunder Cloud was married for a time to a Blackfeet woman, but that the union dissolved.

Lenora Pena of Center Falls, R.I., who described herself as Thunder Cloud's closest friend, said he prayed each night in Catawba.

Thunder Cloud left no known survivors. Ms. Pena said that Thunder Cloud had a sister but that they had lost track of each other many years ago.
---
Jack Jackson, Archaeologist - Fall, 1996
I am sorry to report that Dr. Jack Jackson, Staff Archaeologist at Ft. Hood, Texas, and friend of Texas Indians, did not survive his recent illness.

He leaves his wife, Neweahkeah, many children and lots of friends. I think his Indian heart just got tired of moving all that white blood.

It would violate our agreement with the government to bury a non-Native person at the Comanche National Indian Cemetery, but one of his last wishes was that he be cremated and his ashes scattered among the graves of those Indian people who would have had no graves without his efforts.

We were not able to reach all of the elders this week, but those we reached were unanimous: It will be done.

I have smoked with him, sweated with him, and watched him stand up for our repatriation rights at great personal cost. I particularly remember a heated argument about the return of some ancient bones wherein I blurted out "Some archaeologists would have no problem with that!"

"Like who?"

"Jack Jackson."

(with a dismissing sniff) "He went Native so long ago he forgot what it was like to be a scientist! You call him an archaeologist?"

"Yeah, I do. And a friend."

I thank my Indian cyber-community for allowing me space to wish this white man with an Indian heart a good journey.
---
PRELUDE TO THE ABOVE
If any of you are going to ceremonies this week, please think of Jack Jackson, staff archaeologist at Ft. Hood. He had a heart attack about 20 days ago and remains in intensive care at Brackenridge Hospital in Austin. He now has pneumonia and some mysterious infection, and his chances do not look good.

While he is an archaeologist from a family of archaeologists, he has transcended that disipline's fascination with dead Indians to become a champion of live Indian cultures.

When my Onandaga brother Shiloh Perkins grabbed a tooth off a wall at a local restaurant, it was Jack who rebutted the claim that it was an animal tooth. No doctor would get involved. Yeah, it was an Indian tooth "collected" and glued into "artwork"--until Shiloh, shall we say, took matters into his own hands.

He caused a rewriting of the archaeological report on the Leon River Medicine Wheel to take into account its modern significance.

He wrote an article arguing that any Indian is related enough to any other Indian to have superior standing to that of a white scientist to decide disposition of Indian human remains, without regard to the age of the remains. He also submitted written comments to this effect to the NAGPRA Review Committee while the rules were being drafted.

He got the Army to turn remains over to the tribes for reburial over the objections of the State Archaeologist and the SHPO.

Because he has been a special friend and ally of Texas Indians, he has been privy to information from elders they would seldom share with a non-Indian. He has never and would never betray such confidences.

Jack Jackson's death would set back the repatriation movement in Texas, but the real reason we ask you to think of him is that he is our friend.

Steve Russell
Co-Chair, Repatriation Committee
American Indian Resource and Education Coalition, Inc.
---
Nanepashemet, Wampanoag Elder
The Wampanoag nation in southeastern Massachusetts lost a great storehose of tribal information in the person of Nanepashemet, an herbalist, historian, keeper of songs, and probably much more, who died this past fall [1995]. Nanepashemet also worked with the Native American museum village at Plimoth Plantation. (The Wampanoag was the tribe the Pilgrims met first in the winter of 1620.)

I am white and never met Nanepashemet; this is what has been told to me by some of the Wampanoag who knew him. I believe he passed away in late November or early December 1995, aged somewhere in his thirties (??).

For more information, you could contact Chief Lee White Wolf Maddix, who is one of the comissioners of the Mass. Board of Indian Affairs. He gave his phone number to me as (508) 669 5008.

Thanks in advance.
john hayden
---
William Tallbull, Cheyenne elder
I regret to inform those who did not already know that Cheyenne elder William Tallbull passed away last month [March, 1990].

I had the pleasure of learning from him when he came to Texas along with several other Plains tribe elders to help the Comanches and their allies rebuild and rededicate the Leon River Medicine Wheel.

He chaired the NAGPRA Review Committee for some time and he was Cultural Preservationist for the Northern Cheyenne. He was a teacher and to the extent that any traditional knowledge died with him, it was the fault of those who did not listen.

Tribal elders are our greatest treasure. It's easy to forget that in our daily hassles with the government.

Wa do, William Tallbull, and a good journey.
Steve Russell
---
Joyce -Doc Tate- Nevaquaya, Comanche Elder
Joyce "Doc Tate" Nevaquaya, noted Comanche historian, flutemaker and performer and artist passed away Tuesday March 5th, 1996. He was a gentle giving man who worked throughout his life to preserve the history of not only his own people but the Kiowa, Kiowa-Apache, Cheyenne and Arapaho peoples. He will be deeply missed.

---

As our beloved friend, a founding member, Director of the Board of Directors and Cultural Director, the American Indian Cultural Society (AICS) honors Doc Tate Nevaquaya and dedicates to his memory this celebration of his life, the Fourth Annual Inter-Tribal Fall Gourd Dance.

Joyce Lee "Doc" Tate Nevaquaya was born July 3, 1932, in Apache, Oklahoma. He was later given the nickname of "Doc" after the family's physician. He is survived by his wife, Charlotte, five sons, four daughters, nineteen grandchildren, and one great-grandchild.

As his friend ... Edward Hummingbird, recalls Doc as a self-made man who became famous as an artist, flute-maker and performer of Native American music. He was revered by all tribes and peoples everywhere who were interested in American Indian culture as it "really" was, not as it has been perceived.

Doc performed on the flute at Carnegie Hall, the Kennedy Center, the United Nations before the emperor of Japan and around the world. His paintings have hung in the Smithsonian Institution, the Gilcrease Museum and in Queen Elizabeth's private collection. He was featured in an "On the Road with Charles Kuralt" report and honored as an "Oklahoma Living Treasure" (second in the state's history)and as a "National Living Treasure."

Hummingbird ... contends that Doc Tate Nevaquaya devoted his life to the preservation of not just the American Indian culture, but the "meaning" of it. He grew up hearing stories about how things were. His work shows those times but also what life was like to American Indians during transition from the old days. He influenced and served as a role model for all of us who care and strongly believe the way the American Indian heritage should be preserved.

So much more needs to be remembered, but most of all and above all, Doc was a great humanitarian. He touched the lives of all who knew him or heard him or saw his work. He taught us by example.

A humble, gentle giant of a man, Doc exemplified kindness, compassion, generosity of spirit and self, decency, and loving concern for all mankind. He was our friend.

What a legacy he leaves and what a beautiful and challenging obligation. May each of us now follow his lead and honor him by continuing his life's purpose. Let us find and strive in our own best way a path to make better this world and to join all of its people in harmony, cooperation and true peace.

"Doc's Song"
...by Robert Annesley

Sweet smell of earth
trees, fire, and grass
blot out my problems
with dreams of the past.

Soft tones of flute
that reach my ear
flow through my heart
and leave in a tear.

A traveling song
his people once sang
swirls through the night
and lives once again.

A glimpse of the people
our heritage shared
their laughter and tears
now hang in the air.

Our wise men whisper
from out of the night
they call us together
and fill us with light.

A rebirth of magic
and medicine strong
course in my veins
and lift with the song.

Rising to heaven
and mixing with stars
the music reminds us
just who we are.

Doc Tate encouraged many Apache, Kiowa, Comanche and others, to rediscover their cultures. Many American Indian musicians and artists in Oklahoma, New Mexico, Arizona, Texas, have honored the memory of Doc by donating their work to raise scholarship funds in Doc's name at the College of Fine Arts, The University of Oklahoma.
---
First Nations Cumulative Index

This page is administered by JS Dill.

Please provide an opinion as to this site...