AMERICAN INDIAN MOVEMENT
ADDRESSES
"Autonomous AIM"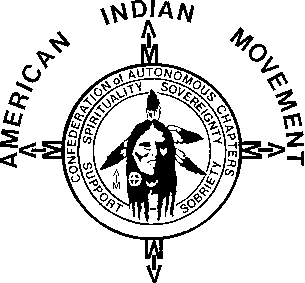 Vernon Bellecourt, American Indian Movement
National Representative and Founding Board Member
As many are aware "Autonomous AIM" has "walked out" of the political indigenous proceedings in Geneva. Note the following:
"AMERICAN INDIAN MOVEMENT
"AUTONOMOUS CONFEDERATION
"GENEVA, SWITZERLAND OCTOBER 24, 1996
"ON THE OCCASION OF THE MEETING OF THE UNITED NATIONS OPEN-ENDED INTERSESSIONAL WORKING GROUP CONSIDERING THE DRAFT DECLARATION ON THE RIGHTS OF INDIGENOUS PEOPLES
"The American Indian Movement is a legitimate National Liberation Organization in the original indigenous territories of North America now claimed by the United States. We have been active at the United Nations since before there was a Working Group on Indigenous Peoples and before there was a Draft Declaration. It is because of our long-standing work in this forum that we feel compelled to inform you why we are leaving this process today."
---
The American Indian Movement does NOT recognize Autonomous AIM as a legitimate entity. By definition, autonomous means "self-governing."

In an effort to clarify Autonomous AIM's recent Geneva declaration I ask you to note the following.

Should anyone have any questions that they might like to ask of me send them to me privately...you may do this via the mailto: link at the bottom of the page:

" To:

All AIM Chapters, Representatives, members, Indian organizations and people and Organizations in Solidarity with Indian People

"From:

Vernon Bellecourt,
National Representative and Founding Board member American Indian Movement

"Date: August 7,1995
"This memorandum should be considered by all interested persons and organizations as official notice that a person identifying himself as Bobby Castillo is not now nor in the past a leader, representative, or member of the American Indian Movement (AIM).

"Bobby Castillo, after he was released from federal prison, showed up at the office of The International Indian Treaty Council in San Francisco, California offering his services as a part-time volunteer.

"Almost immediately upon his arrival, the staff at IITC began to have some serious concerns regarding a pattern of disturbing and disruptive incidents involving Mr. Castillo. For these reasons on December 1, 1993 Bobby Castillo was expelled from IITC activities and office. IITC is the International diplomatic and political arm of the American Indian Movement.

"Mr. Castillo then self-proclaimed himself a leader in the American Indian Movement. Which fraudulent representation, he continues to perpetrate nationally and internationally. We continue to get reports from friends and supporters nationally and internationally on how he disrupts and distorts the true philosophy of the American Indian Movement.

"Bobby Castillo is a phony, fraud, and a wannabee. According to people who know him, he has always identified with his Hispanic roots. Only upon release from prison did he began to identify with an Indian tribe.

"More serious, he is one of approximately fourteen persons, some the targets of American Indian Movement Internal and External Security ongoing investigations as being agent/operatives for the FBI/CIA attempts to divide and destroy the American Indian Movement.

"Along with the following suspected government agents, conspirators and/or collaborators or dupes, Bobby Castillo, David Hill, Ward Churchill, Russell Means, Glen Morris, Bob Robideaux, Joe Locust Sr., Sharon Venne, George Martin, Donald Grinde Jr., Dian Million and Shelly Davis have tried to divide and destroy the American Indian Movement.

"By declaring the existence of a so called confederation of autonomous american indian movement, they have been able to dupe several Indian people and communities into playing into their game of dividing the movement.

"These persons whom are misled are requested to contact the National Office of the American Indian Movement for official sanctioning and recognition.

"Bobby Castillo has been put on notice that he is to cease and desist from fraudulently representing The American Indian Movement. we ask all American Indian Movement members, friends, supporters and organizations world wide to assist us in our efforts to isolate Bobby Castillo and the listed co-conspirators and/or collaborators.

"If you have information on any of these individuals write, telephone, or fax."
American Indian Movement
National Office
PO Box 13521
Minneapolis, MN 55414

Telephone: (612) 721-3914
Fax: (612) 721-7826

This letter is sanctioned by AIM's Founding Board of Directors: Larry Anderson-Dine Navaho, Dennis Banks-Anishanabe, Clyde Bellecourt-Anishanabe, William A. Means-Oglala Lakota, Herb Powless-Oneida, Carol Standing Elk-Dakota Further, this letter has been certified as legitimate and current by Vernon Bellecourt as of 11.5.96. A list of "legitimate" AIM Chapters should be available for distribution by the first of next year.

DJB/FW/LP
---
Anna Mae Aquash Archive

Relinquishing A Legacy of Hatred,
Embracing Respect for All Life
Conversations with
Dino Butler©

AIM Home Page

Wounded Knee Home Page

First Nations Cumulative Index
---

This site is maintained by JS Dill.